Water Features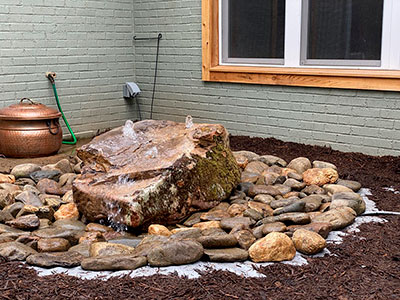 If you are looking for attractive and unique landscaping, adding decorative features is the best way to do it. This helps in enhancing the look of any space on your property. Landscaping is a specialized job and we at Landcore Landscape Construction & Design do it very well. As part of the landscape installation project, we can also install water features for you. There are a range of features you can choose from and these could also be made with different materials.

When we help with the installation, we can also suggest which materials and designs match the rest of the landscaping and will ensure that the final effect is truly stunning. Your choice of water features will also depend on the space that is available and the location where it is going to be installed.


Types of Features
Water features look aesthetically-appealing, and create a relaxed atmosphere on your property. Even if we install a small waterfall for you, the gently cascading water can have a very soothing effect and will help you relax and unwind. If you live in a busy neighborhood, the sound of the waterfall can also dull traffic sounds. You can choose from options such as:


Pondless Waterfall - These have re-circulating function and there are no ponds at the base. You can enjoy the sound and sight of the water but do not have to worry about the hassle of maintaining the pond. This option is ideal if you are looking for a low-maintenance option or do not have enough space for a pond


Ponds - These can be added to open spaces on your property and you can have aquatic plants and fish in them. But they tend to be very high maintenance and will have to be cleaned on a very regular basis


Fountains - We can install the best fountains for you. These could be made of stone, brick or a concrete or may be made with a combination of materials. If you have a larger landscape, we can also install more than one fountain. Fountains are perfect for creating focal points on the property and smaller ones can be used as accent pieces. They are an excellent way of balancing out the open areas


Bubbling Boulders - These are a great way to add the water element to smaller spaces. They are essentially boulders that have been bored-through and have water flowing out of them through holes. These are made with natural stones like mica, quartz, pink sandstone etc. They are a great option for smaller patios and balconies


The Best Water Features
Regardless of what your landscaping need is, we at Landcore Landscape Construction & Design will be able to provide you with the perfect option. We can design and build the most interesting and unique water features on your property and you can enjoy the calming effect that the water element has, right there in your garden or yard. We use the best materials and our personnel are highly experienced and skilled at their job. You can contact us at 864-313-5516 for all types of water features and landscaping jobs.
We Provide Services to the Following Cities and Towns in SC: