About Us
LANDCORE is a family-owned and operated business in Greenville, South Carolina.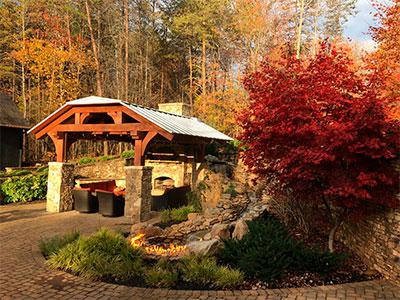 We believe that a great landscape and hardscape setting begins with professional design services. That is where we like to begin our journey with our clients; by offering superior design ideas and formulating an end result that the client is excited about. It is our goal to provide you with the best outdoor living space possible, based on the space you have and meeting your budget requirements!

The Godings have been in the landscape and hardscape industry for more than a half Century. We believe the relationship created around a business opportunity is just as important as any project. With this in mind, we can guarantee we will provide you with the experience that you will truly be excited about.

Some of our most popular Outdoor living projects include retaining walls, outdoor kitchens, fireplaces, fire pits, water features, landscape lighting and of course the installation of concrete pavers for applications such as patios, driveways, walkways and pool decks. Let us help you make your landscaping visions a reality with experienced premium craftsmanship!
WE PROVIDE SERVICES TO THE FOLLOWING CITIES AND TOWNS IN SC: