Landscape Design Greenville, SC
We are known for our exquisite landscape designs that have paved the way for the creation of some of the most stunning landscapes in South Carolina. Our past landscape design projects in Greenville, Mauldin, Simpsonville, Taylors, and other SC cities are all hugely successful. While we only began business in 2013, we have already made a name in the landscaping industry because of our extraordinary design renderings that can be considered world-class.

So if you want to work with people who can expertly translate your design ideas into full-color and detailed renderings, just call our hotline soon. We'd be happy to hear your plans and offer you the right design solutions.


One-off Landscape Designs that Mesmerize
It takes expert and trained eyes to create unique and great landscapes through well-planned landscape design. At Landcore Landscape Construction & Design LLC, we are truly proud of our team of landscape designers who have completed numerous design tasks for Greenville property owners and those from nearby areas.

We focus on making designs that perfectly capture what our clients need and expect. In every project, we always see to it that our clients' personality will shine. Our aim is to make their landscapes unique from all other landscapes in their immediate community. This way, we can give clients the feeling of exclusivity and uniqueness that other design companies cannot offer.


The Best Design Tools
One of our best-kept secrets is our use of modern design tools. Our computer-aided design programs are the best there is. These landscape design tools allow us to provide clients with designs rendered in full-color and extreme details. They likewise make it possible for our designers to finish designs fast and well ahead of deadlines.


Collaborative Efforts Guaranteed
In all our landscape design projects in Greenville, SC and nearby locations, we always ensure close collaboration with clients during the design stage to get their suggestions and incorporate their needs and preferences. We try to get them involved as much as possible so we are sure that we're doing things the way they envision. This collaborative effort is also our way of ensuring that the results will be what clients expect so there won't be any reason for a back job.


What We Can Design?
As we've done so many times before, we can handle landscape design requirements of commercial and residential property owners. We can create designs for your softscapes and other landscape features such as: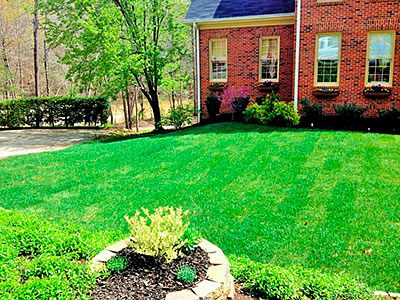 Water features. We can create unique designs for pools, ponds, fountains, and waterfalls.
Fire amenities. We can balance things out by including in the design plan fire pits, fireplaces, and fire bowls, whichever you desire.
Hardscapes. We can incorporate provisions for pathways, gazebos, outdoor kitchens, driveways, garden steps, retaining walls, and decks.
Irrigation and drainage systems. Our designers can also add layouts for drainage and irrigation systems to make the entire design plan complete.
Call Us for Your Landscape Design Needs
Whether it involves designing only one portion of your yard or you need your entire outdoors designed, we can provide the best services. Our landscape design team will listen to all your needs and fuse your ideas with ours to create an overall design that is hard to match. Call 864-313-5516 right now.
WE PROVIDE SERVICES TO THE FOLLOWING CITIES AND TOWNS IN SC: