Hardscapes Grading
There are a number of beautiful properties in and around the Upstate, SC, but many of these are also graded. Though grading offers some very interesting landscaping opportunities, it also limits the use of the land. In addition, if this is in spots where you ideally want a driveway, any walkways and pathways, it creates a distinct problem. This is where Landcore Landscape Construction & Design uses its expertise in the field to provide you with the best and most suitable hardscapes grading solutions.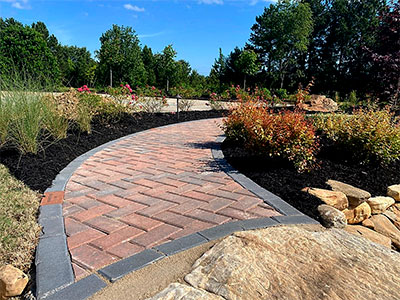 When you call us with your specific requirement, we will come and survey the area in detail and create a detailed plan about how the leveling work will be carried out and what the final effect will be. Once you have approved this plan and the quote, we will then carry out the work and ensure that it is completed within the required time and budget.


A Specialized Job
Hardscapes grading is a specialized job and not something a novice can handle. In addition to leveling the ground at certain spots, we will also have to build suitable, well-engineered sturdy and durable retaining walls. These walls ensure that the slopes that still exist around the graded land do not collapse onto the flattened areas. While we are carrying out this detailed work, we will also assess if any soil erosion is taking place on your property. If it is, we will then ensure that it too is evened out and that the right supporting structures are constructed adjacent to it.


The Experienced Professionals
We have expert landscape designers on board our team who have years of experience in the field. This means, your work is handled to perfection. Once the graded land has been leveled, the right foundation will be laid and the driveway, pathways and walkways will then be installed on it. If you want any raised planter beds or retaining walls with built-in seats, we can accommodate those requests while the hardscapes grading work is in progress.

We use the latest excavating equipment in our work and all our personnel have the experience and skill to handle all complexities of jobs in the most expert manner. If you have a requirement for any kind of grade leveling work on your property in and around Upstate South Carolina, we are the company to come to.


Customized Services
There are times when customers have purchased a plot of land and want to build a house on it. If the property is graded, it poses challenges and we can help with hardscape grading solutions. We have worked very closely with builders and architects in the region and have handled very complex jobs too. This has made us a preferred landscape professionals in the area.

If you are looking for the best hardscape grading services as well as any related landscaping services, contact Landcore Landscape Construction & Design at 864-313-5516. We assure you that we will provide you with customized solutions within your budget. Call us with your requirement today.
We Provide Services to the Following Cities and Towns in SC: