Drainage Solutions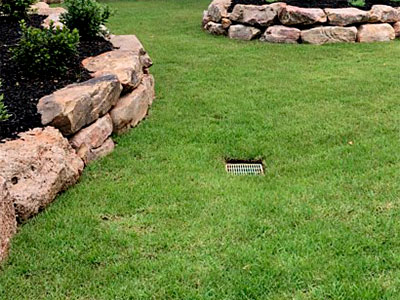 As a homeowner you spend a lot of effort and money on getting the kind of landscape you desire. But once it has been installed well, you also need to ensure that it is maintained well and that all the plants, trees and shrubs are healthy at all times. With this in mind, you also get the best automated sprinkler systems installed and feel assured that your garden and yard will now look beautiful and stay healthy.

But have you ever given a thought to the drainage systems? These are probably even more important to your landscape and property as a whole than irrigation systems are. If you are wondering how an ineffective drainage system can affect your landscape- read on. If you find that there are a lot of pools and puddles of water on the hardscaping or in the flower beds and plant areas, after a heavy shower, this is an indication that the drainage system is not functioning effectively.


Perfect Drainage Solutions
Apart from the fact that it mars the look of the landscaping, it is detrimental to the health of the plants, turf, as well as the hardscaping. What people are not aware of is that it can also impact the foundation of your home and any other outdoor structures that you have on your property.

This is exactly why Landcore Landscape Construction & Design focuses on providing the most well-designed drainage solutions when we are designing landscapes. Our customers across Upstate South Carolina never have to face any flooding issues on account of a system that does not work well. But in case you already have an existing system that is causing these kinds of issues, we can fix that for you too.


Types of Drains
We have years of experience in this space and are able to handle all types of landscaping jobs with the highest levels of expertise. While we provide you with complete drainage solutions we use a combination of drain systems such as: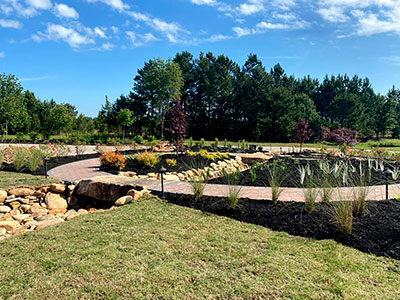 Channel Drains - These are excellent to channel water away from driveways and patios and can be installed on concrete surfaces. They are an ideal solution for pool areas as well


French Drains - These drains are a good option for areas in your landscape where there are any raised planters. The drains are wrapped in a special landscaping-fabric and covered in a layer of rocks. This prevents the rain from getting clogged with soils and roots


Area Drains - These simply-designed drains are very effective and are connected to larger underground pipes and all the water gets diverted to the street drainage system


Customized Solutions
The drainage solutions we provide will be customized to the layout of the land as well as the kind of climate the area sees. In addition, we focus on the different kinds of plants you have and what kind of soil they are required to have around them. With all these aspects in view, we then provide you the most suitable solutions with the kind of budget you want us to work on. Contact us today at 864-313-5516.
We Provide Services to the Following Cities and Towns in SC: